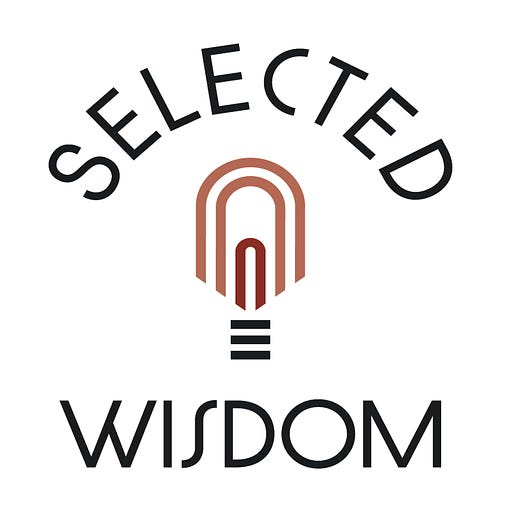 May 6, 2022 • 34M
Episode 1: Matt Eversmann - Selected Wisdom Podcast
U.S. Army Veteran who served in Somalia and Iraq reflects on career of service
Selected Wisdom is the audio version of Clint Watts' blog, which seeks to do what his original blog sought out to do in its launch in 2010 – provide selected bits of wisdom and insights from those with unique experiences and specific insights into different issues and life in general. Selected Wisdom illuminates that no one person has all the answers, but every person has the answers to some questions and can offer lessons learned from a lifetime of experiences. Guests from all different backgrounds will join host Clint Watts for conversations sharing bits of their selected wisdom for listeners.
Streaming now on:
In 1999, I arrived at Ft. Benning for my second round of infantry training. My West Point classmate and then-roommate served in the 3rd Ranger Battalion there—his platoon sergeant was Sergeant First Class Matt Eversmann. Matt was already a legend who'd led Rangers through intense combat in the streets of Mogadishu, Somalia. Just weeks after I met him, the book Blackhawk Down quickly climbed best seller lists, and not long after, the 2001 movie of the same name hit theaters. Matt became a household name, appearing on television and in media interviews. All the while, I'd still get to learn from him in my living room. Matt could relate to anyone from any rank, both on and off camera. Generals asked for his opinion, television news hosts leaned on him for perspective, and new officers and soldiers depended on him as they prepared for years of deployments during the Global War on Terror. Matt was an invaluable mentor to me as an up-and-coming infantry company commander.

Matt and I have remained friends for the past two decades, and what I've always found fascinating about Matt serving in combat and being portrayed in a hit movie is he went back to war in Iraq a decade after Somalia as a First Sergeant with the 10th Mountain Division. Rarely in American history has a soldier fought in one war, become a household name, and then gone on to lead soldiers in another conflict more than a decade later. I had the great honor of connecting with my friend Matt Eversmann in his Army retirement to get some "selected wisdom" on what he's learned from war over the decades on different battlefields, before and after Blackhawk Down. 
More about Matt Eversmann:
Matt Eversmann enlisted in the Army as an infantryman in December 1987. Matt spent time with the 10th Mountain Division and eight-and-a-half years with the Ranger Regiment, serving as a squad leader, a weapons squad leader, the battalion air operations sergeant, the battalion liaison sergeant, and a platoon sergeant. Matt was also the officer in charge of the 75th Ranger Regiment's Pre-Ranger Course, training future leaders to pass the grueling Army Ranger School.
In August of 1993, Matt and his company deployed to Mogadishu, Somalia, in support of Operation Gothic Serpent. The deployment was made famous by the 2001 Ridley Scott film Black Hawk Down, in which Matt is portrayed by Josh Harnett. For his service in Somalia, he was awarded the Bronze Star Medal with Valor device and the Combat Infantryman's Badge. 
Matt's last military assignment was as an Infantry Company First Sergeant in the 10th Mountain Division. He and his soldiers spent 15 months in Iraq during "the Surge" fighting Al-Qaeda and implementing the counter insurgency strategy. 
He is an Emmy-award-winning documentarian and has co-authored two New York Times Best Seller list books—Walk in my Combat Boots and E.R. Nurses—with James Patterson. They are currently working on their third project.